Community Highlights - Mossbank, SK
Today's edition of Community Highlights takes a look at the community of Mossbank, SK!  We have a listing in the area of 789 contiguous acres which includes a 1,510 square foot bungalow, 40X90 quonset, 60X60 cattle barn, 100X21 pig barn, other outbuildings and a great water supply from 2 wells. This blog is here to help people get a better feel for what life is like in this great agricultural community!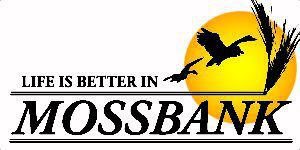 Mossbank is located in the South Central part of Saskatchewan and is only minutes from the serene and meditative scenery of Old Wives Lake. Mossbank is a short commute to major agricultural centers: 50 minute drive to Moose Jaw, 25 minute drive to Assiniboia, 30 minute drive to Gravelbourg ,  and a 1 ½ hour drive to Regina. If you would like to travel to the United States the drive to the nearest border crossing is 1 ½ hours away.
The town of Mossbank is a great community to raise a family as it has a K-12 school. The school features basketball, volleyball and badminton courts, a four hundred meter outdoor track and three ball diamonds. School teams competing in the divisional, regional or provincial levels include volleyball, curling, badminton, table tennis, golf, track and field, cross country running and slow pitch. The school also features an intramural sports program and fully equipped children's playground.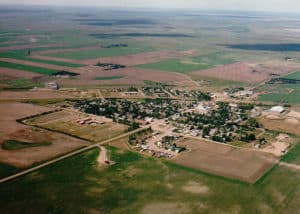 Mossbank has many businesses and modern recreational facilities to offer its residents. Modern recreational facilities include a swimming pool, hockey rink, curling rink, gym, music lessons and a fitness center. Throughout the year events such as dances, musicals, plays, concerts, banquets and hypnotist shows are put on at the Mossbank Community Hall. The Palliser Regional Library puts on annual children's summer programs to help keep the kids entertained. The Mossbank & District Museum puts on events for Canada Day and an Apple Pie Day (yum) every August. Businesses include a credit union bank, grocery store, post office, Co-Op hardware and service station, insurance agency, four churches, licensed restaurant, used auto parts dealership, John Deere Dealership, electrician, museum, hair salon, community hall, library, accounting services, massage therapist, liquor store, personal care home, a hotel and two bed and breakfasts. Mossbank also has a doctor that regularly visits the community health center, or you can travel 25 minutes to Assiniboia or 30 minutes to Gravelbourg where there are doctors, a hospital and a full service pharmacy.  The town also features a destination grain elevator for organic farmers from Saskatchewan, Manitoba and Alberta.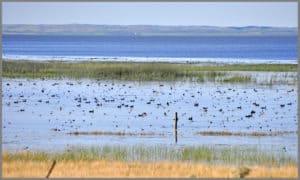 (Photo by Carol Parafenko)
Being so close to Old Wives Lake and Lake of The Rivers makes Mossbank a destination for bird watchers & hunters. There is a new nature area located on the South shore of Old Wives Lake featuring a 2.4 KM walking trail, a look out deck, gazebo and picnic areas. During the Fall the skies around Mossbank are full of tens of thousands of game birds migrating South for the winter, so if you like to hunt this is the perfect place for you!
A combination of all of these great things adds up to Mossbank being a community that truly has lots to offer its community, and you should definitely check it out if you are looking to relocate to a fantastic farming community in South Central Saskatchewan!
Let's meet.
We look forward to speaking with you, whether you're looking to buy or sell farmland in Saskatchewan